Obsidian Value, Price, and Jewelry Information
---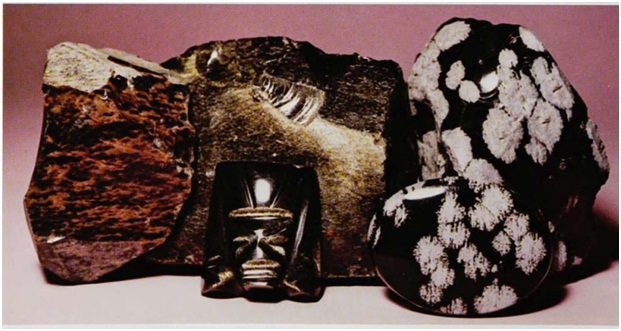 Obsidian Value
The International Gem Society (IGS) has a list of businesses offering gemstone appraisal services.
Obsidian Information
Data
Value
Name
Obsidian
Is a Variety of
Natural Glass
Varieties
Apache Tears, Fire Obsidian, Mahogany Obsidian, Rainbow Obsidian, Sheen Obsidian, Snowflake Obsidian
Crystallography
Amorphous; usually as rounded masses ejected in volcanic eruptions, as small broken pieces, fine, hairlike filaments (for example, Pele's Hair), and as flows.
Refractive Index
1.48-1.51; usually 1.49
Colors
Black; gray, banded with brown streaks. Iridescence noted: gold, silver, blue, violet, green, and combinations of these colors, due to inclusions of minute bubbles that reflect light.
Luster
Vitreous.
Polish Luster
Vitreous.
Fracture
Conchoidal (best example of this type of fracture).Basalt glass may be splintery
Hardness
5; 6 for basalt glass.
Specific Gravity
2.25-3.00. (Typically 2.33-2.42; 2.70-3.00 for basalt glass).
Birefringence
None, but crystals included in obsidian may be birefringent.
Cleavage
None
Luminescence
None.
Wearability
Poor
Transparency
Transparent to opaque.
Phenomena
Iridescence, chatoyancy.
Formula

Variable composition: SiO

2

 approximately 66-72% + oxides of Ca, Na, K, and so forth. Basaltic glass is ~5O% SiO

2

.

Pleochroism
None.
Optics
Isotropic.
Etymology
After Obsius, an explorer who discovered this material in Ethiopia, according to the Ancient Roman naturalist Pliny the Elder.
Occurrence
Obsidian is found in areas of present and former volcanic activity.
Inclusions
Elongated, torpedo-shaped bubbles, round bubbles, teardrop-shaped bubbles. Bubbles are often in parallel arrangement. Needlelike inclusions may give a silvery sheen. Protogenic silica minerals crystallizing in obsidian may be white and resemble snowflakes, hence the term snowflake obsidian.
Comments
Obsidian is naturally occurring volcanic glass.  This material is considered a rock. It's heat sensitive and brittle, so cutting requires great care. Faceted gems tend to be very dark, except in small sizes. These pieces make delicate jewelry.
Varieties
This attractive material has a wide variety of appearances.
Snowflake obsidian, with spherulites of cristobalite, is widely used in jewelry as beads and cabochons.
Apache tears, which are cores of unaltered glass in nodular shells of decomposed obsidian, are popular among beginning hobbyists. Some of these have been faceted.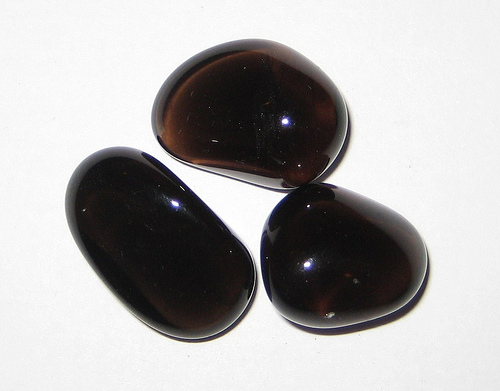 Mahogany obsidian has a reddish-brown color due to iron impurities.
Rainbow and fire obsidian show multiple brilliant colors due to inclusions of magnetite nanocrystals. Fire obsidian contains thinner layers of magnetite than the rainbow variety.
Sheen obsidian has a sheen produced by inclusions of gas bubbles.
Pele's Hair is a light, string-like volcanic basalt glass that can become airborne.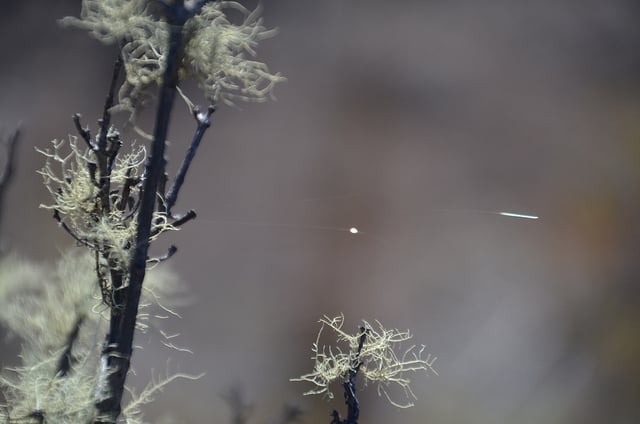 Synthetics
Artificial or manufactured glass in blue, green, or red is sometimes passed off as obsidian. Natural obsidian does not form in these colors.  (However, these colors can be shown through iridescence). See the glass gem listing for more information.
Sources
The United States is a major source of gem-quality material.
Oregon: fire, mahogany, and rainbow varieties are known.
Wyoming: notably at Yellowstone National Park.
New Mexico: Apache tears.
Arizona; Colorado; California; Nevada: several localities.
Utah: major source of snowflake variety.
Hawaii: Pele's hair and other varieties
Mexico: abundant, especially banded and sheen varieties.
Ecuador; Iceland; Indonesia; Italy; Japan.
Stone Sizes
Fragments range from microscopic to many inches across. Carvings up to 8-10 inches could be made. Larger pieces are available in place in certain localities.
by