Apophyllite Value, Price, and Jewelry Information
---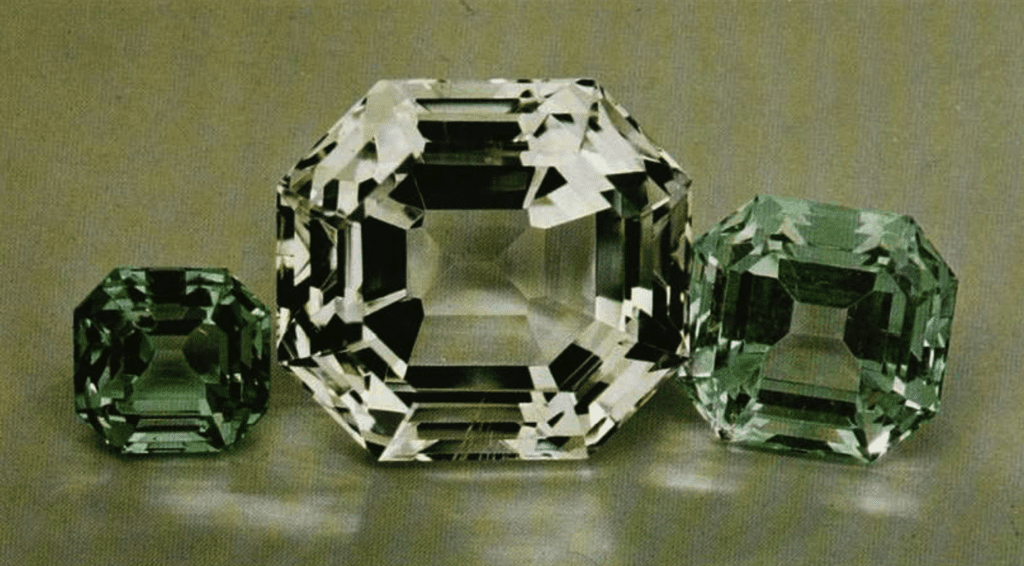 Although not suitable for jewelry, apophyllite is a popular collector's piece. Perhaps the whitest of all gems, cut, colorless specimens are so devoid of color they can appear almost silvery. This stone is not rare, but facetable material is quite scarce.
Apophyllite Value
The International Gem Society (IGS) has a list of businesses offering gemstone appraisal services.
See the entire Gem Price Guide.
Start an IGS Membership today for full access to our price guide (updated monthly).
Apophyllite Information
| | |
| --- | --- |
| Data | Value |
| Name | Apophyllite |
| Crystallography | Tetragonal. Crystals pseudo cubic; tabular, prismatic, sometimes pyramidal. |
| Refractive Index | 1.530-1.540 |
| Colors | Colorless, white, grayish, pale yellow, pale green, dark green, pink, reddish. |
| Luster | Vitreous, pearly on cleavage. |
| Fracture | Uneven |
| Hardness | 4.5 – 5 |
| Specific Gravity | 2.3-2.5 |
| Birefringence | 0.003 to 0.001 or less. May appear isotropic. |
| Cleavage | Perfect 1 direction |
| Luminescence | None |
| Wearability | Display Only |
| Transparency | Transparent to opaque. |
| Absorption Spectrum | Not diagnostic. |
| Formula | KCa4Si8O20(F, OH)· 8H2O |
| Pleochroism | None |
| Optics | o = 1.53-1.54; e = 1.53-1.54 (variable). Optically (+) or (-); uniaxial. See "Identifying Characteristics" below. |
| Etymology | From the Greek words apo and phyllos, "away from" and "leaves," describing the gem's tendency to exfoliate when strongly heated. |
| Occurrence | Secondary mineral in basic igneous rocks, such as basalts and traprocks. |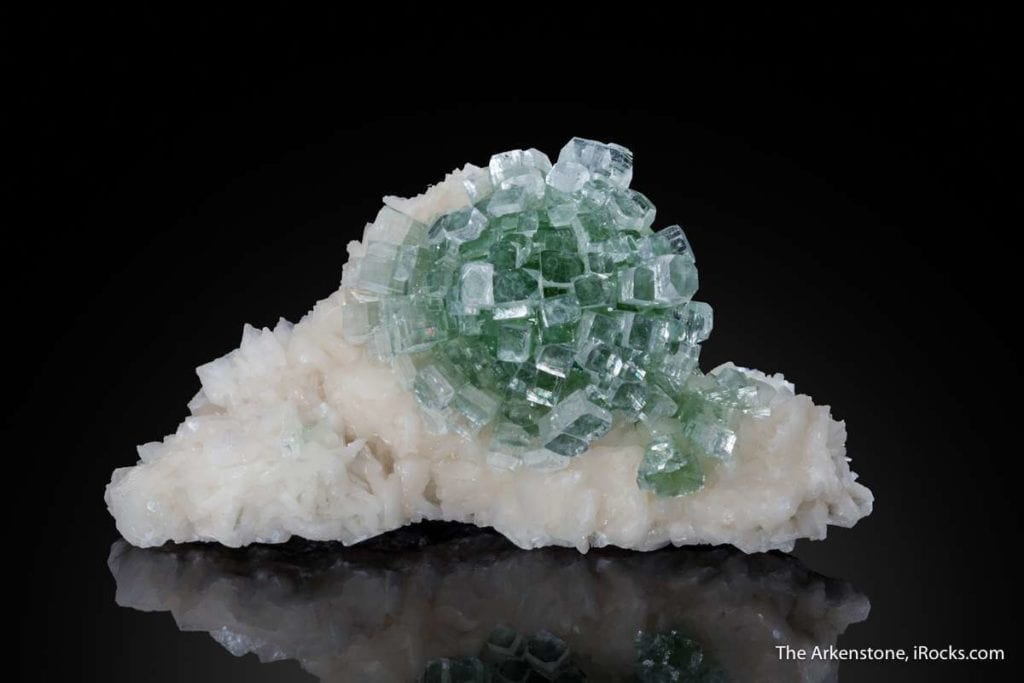 Comments
Apophyllite's extremely perfect and easy cleavage makes it very brittle and fragile. This perfect cleavage dictates that gem cutters choose an orientation with the table of a faceted stone not perpendicular to the crystal's long axis.
The green, iron-rich apophyllite from India occurs in magnificent crystal groups. However, facetable material is usually rare and smaller than the colorless variety.
Identifying Characteristics
Apophyllite's optic sign may vary. It may be uniaxial positive or negative.
Material from Poona, India shows the following properties:
Synthetics
None known.
Enhancements
Apophyllites may receive diamond-like carbon (DLC) and synthetic diamond film coatings. These treatments may improve the gems' wearability and resistance to scratching.
Radiation can turn colorless material green. Heating may reverse this process.
Sources
Mumbai (Bombay), India produces colorless as well as intense, apple-green colored crystals, due to the presence of iron.
Other notable sources include:
United States: Colorado; Michigan; New Jersey; Oregon; Pennsylvania; Virginia; Washington.
Bay of Fundy, Nova Scotia, Canada.
Guanajuato, Mexico.
Brazil; Canada; Faroe Islands; Germany; Iceland; Ireland; Scotland; Sweden.
Stone Sizes
Gem cutters seldom facet apophyllites. Furthermore, facetable rough greater than 10 carats in size is very rare. Stones faceted as curiosities are usually colorless. However, custom gem cutters have faceted the green Indian material.
Smithsonian Institution (Washington, D.C.): 15.4 (colorless, step cut).
Devonian Group (Calgary, Alberta, Canada): 7.05 (colorless, Poona, India).
Private collection: 24.92 (freeform, Poona, India).
Care
You're more likely to find apophyllites in mineral collections than in jewelry collections. In addition to perfect cleavage and relatively low hardness (4.5 to 5), this gem has great heat sensitivity. The heat from a jeweler's torch may cause these gems to exfoliate. In other words, true to its etymology, apophyllite may lose flakes or "leaves" of material if heated. For cleaning, use a soft brush, mild detergent, and warm water. Consult our gemstone jewelry cleaning guide for more recommendations.
by