Scapolite Value, Price, and Jewelry Information
---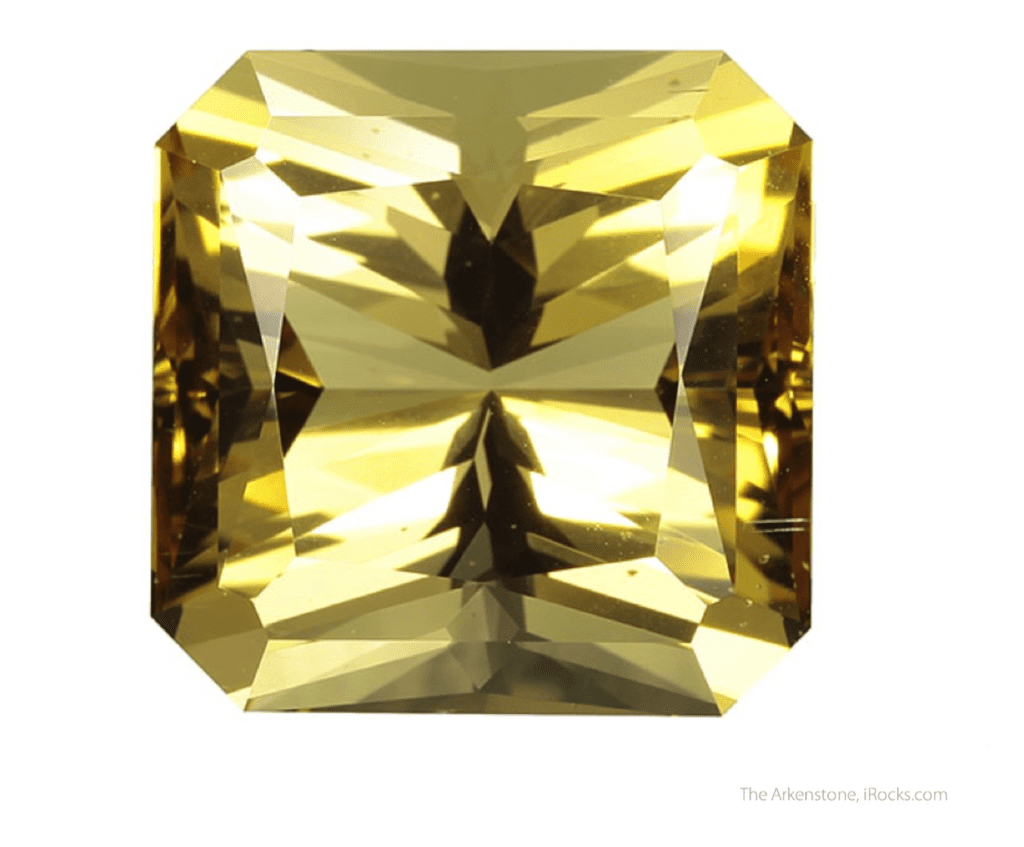 Although not well known, scapolite would make an attractive gem material for both jewelry enthusiasts and mineral collectors. It comes in a wide variety of colors and can show dramatic fluorescence. Rare specimens also display phenomenal effects, like chatoyancy.
Scapolite Value
Yellow scapolite's value depends on size, clarity, and strength of color. Expect the usual premiums on price in terms of color saturation and custom versus native or commercial cutting. Values for natural purple or violet scapolites differ greatly from irradiated stones, since the untreated stones are rarer and have a delicate, but much purer, purple. Prices for untreated purple stones would exceed yellow, while prices for irradiated purple stones fall below yellow.
Rare cat's eye scapolites are highly varied and quite beautiful.
Cabochons cut from opaque Quebec and Ontario material are very lovely and often fluoresce brightly.
Tanzanian golden scapolite is much darker in tone than the Brazilian material, as well as much cleaner. Moreover, there is enough available to make jewelry promotion feasible.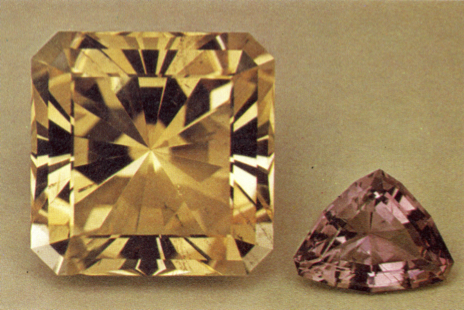 The International Gem Society (IGS) has a list of businesses offering gemstone appraisal services.
See the entire Gem Price Guide.
Start an IGS Membership today for full access to our price guide (updated monthly).
Scapolite Information
Data
Value
Name
Scapolite
Varieties
Marialite, Meionite, Petschite, Wernerite
Crystallography
Tetragonal; crystals prismatic, often large and coarse; massive, granular, cleavages.
Refractive Index
Varies by composition and locality, 1.531-1.600. See "Identifying Characteristics" below.
Colors
Colorless, white, bluish gray, pale greenish yellow, pink, violet, brown, orangey brown, golden yellow, orangey yellow.
Luster
Vitreous; resinous; pearly on cleavages.
Polish Luster
Vitreous, resinous
Fracture Luster
Vitreous, resinous, pearly
Fracture
Uneven to Conchoidal
Hardness
5.5-6
Specific Gravity
2.50-2.78, varies with composition. See "Identifying Characteristics" below.
Birefringence
Varies by composition and locality, 0.004-0.037. See "Identifying Characteristics" below.
Cleavage
Perfect/distinct in two directions
Dispersion
0.017
Luminescence
Myanmar: yellow to orange in LW (U spectrum), also pink in SW. Tanzania: strong yellow in both LW, SW; violet stones = pink in SW, inert in LW. Quebec: massive material fluoresces in LW (+ phosphorescence). Some yellow faceted gems fluoresce lilac in SW. Strong orange in X-rays.
Wearability
Poor
Enhancements
Heat treatment, improves color, common, undetectable. Irradiation turns colorless and yellow to purple. Uncommon, fades rapidly.
Special Care Instructions
Avoid rough handling
Transparency
Transparent to Opaque
Absorption Spectrum
Pink and violet stones show bands in the red at 6630 and 6520 due to Cr. Strong absorption in the yellow part of the spectrum.
Phenomena
Very rare: chatoyancy, iridescence, tenebrescence, aventurescence.
Formula

Marialite: 3Na(AlSi3)O8 · NaCl.
Meionite: 3Ca(Al2Si2)O8 · CaCO3.

Pleochroism

Pink and violet stones: dark blue/lavender blue; colorless/violet.
Colorless and pale yellow stones: colorless to pale yellow/yellow.

Optics
Uniaxial (-).
Etymology
Scapolite comes from the Greek skapos for "shaft," because of the stumpy nature of its prismatic crystals. Marialite was named after Maria Rosa, wife of German mineralogist G. vom Rath. Meionite comes from the Greek meion for "less," because its pyramidal form is smaller than that of idocrase from Vesuvius, which it resembles. Mizzonite comes from the Greek meizon for "greater," because the axial ratio is larger than that of meionite. Wernerite was named after the mineralogist Abraham Gottlob Werner.
Occurrence
In contact zones; regionally metamorphosed rocks; altered basic igneous rocks.
Inclusions
Hollow tubes, needles, platelets.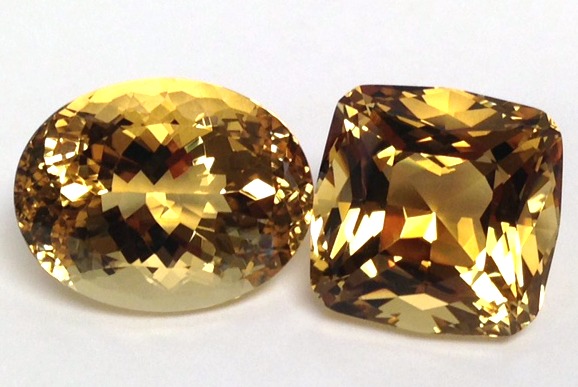 Comments
The scapolite mineral group contains a solid state series from marialite to meionite, with mizzonite as the intermediate member. Gemologically speaking, the term scapolite refers to the gems that form in this series. (Older sources may refer to this series as wernerite). The colors and properties of scapolites vary as the amount of sodium and calcium in their chemical composition changes.
Colors range from near colorless through pinks and purples to yellow and orange. By far, yellows occur most commonly. Purples come a distant second.
Scapolites may show strong fluorescence and pleochroic colors. In addition, rare specimens have displayed a variety of phenomenal effects. These include chatoyancy (in many colors and with unusually sharp "eyes") and tenebrescence.
In addition, so-called "rainbow scapolites" display iridescence. Recently, the Gemological Institute of America (GIA) found that brownish orange platelets, possibly hematite inclusions, caused aventurescence in a scapolite specimen. (Be aware that pink scapolite with sheen is sometimes erroneously called pink moonstone).
"Rosalinda," an ornamental laidary rock from Peru, consists of calcite, scapolite, and red epidote-piedmontite.
Under shortwave ultraviolet light, this tenebrescent colorless scapolite changes to a light blue. Over time, the blue fades back to colorless. "Scapolite," cushion cut, 1.55-ct, 7.6 × 7.4 ×5.0, Pakistan. © ARK Rare Gems. Used with permission.
Identifying Characteristics
Distinguishing citrines, a yellow variety of quartz, from yellow scapolites may sometimes prove challenging (without a destructive scratch test). Consult this article on difficult separations for advice.
Table of Marialite-Meionite Series Properties
Locality

Color

o

e

Birefringence

Specific Gravity

Marialite

–

1.546-1.550

1.540-1.541

0.004-0.008

2.50-2.62

Entire Rios, Mozambique

yellow

1.568

1.548

0.02

2.70

Umba River, Tanzania

yellow-gold

1.562-1.567

1.543-1.548

0.019

2.66-2.67

Umba River, Tanzania

violet

1.539-1.540

1.531-1.534

0.007

2.59

Umba River, Tanzania

yellow

1.553

1.539

0.014

2.63

Umba River, Tanzania

very pale yellow

1.579

1.553

0.026

2.74

Rio Pardo, Brazil

golden yellow

1.570-1.574

1.549-1.552

0.021

2.68-2.70

Myanmar

colorless

1.56

1.544

0.016

–

Myanmar

pink

1.558

1.545

0.013

–

Myanmar

light yellow

1.587

1.554

0.033

–

Myanmar

pale pink

1.549

1.54

0.009

2.63

Myanmar (cat's eye)

violet

1.560

1.544

0.016

2.63

Sri Lanka (cat's eye)

gray

1.583

1.553

0.030

–

Kenya (cat's eye)

brown

1.57

–

2.73

Madagascar

colorless

1.568-1.571

1.550-1.552

0.018-0.020

–

Meionite

–

1.590-1.600

1.556-1.562

0.024-0.037

2.78
Graph of Scapolite Optical Properties Versus Chemical Composition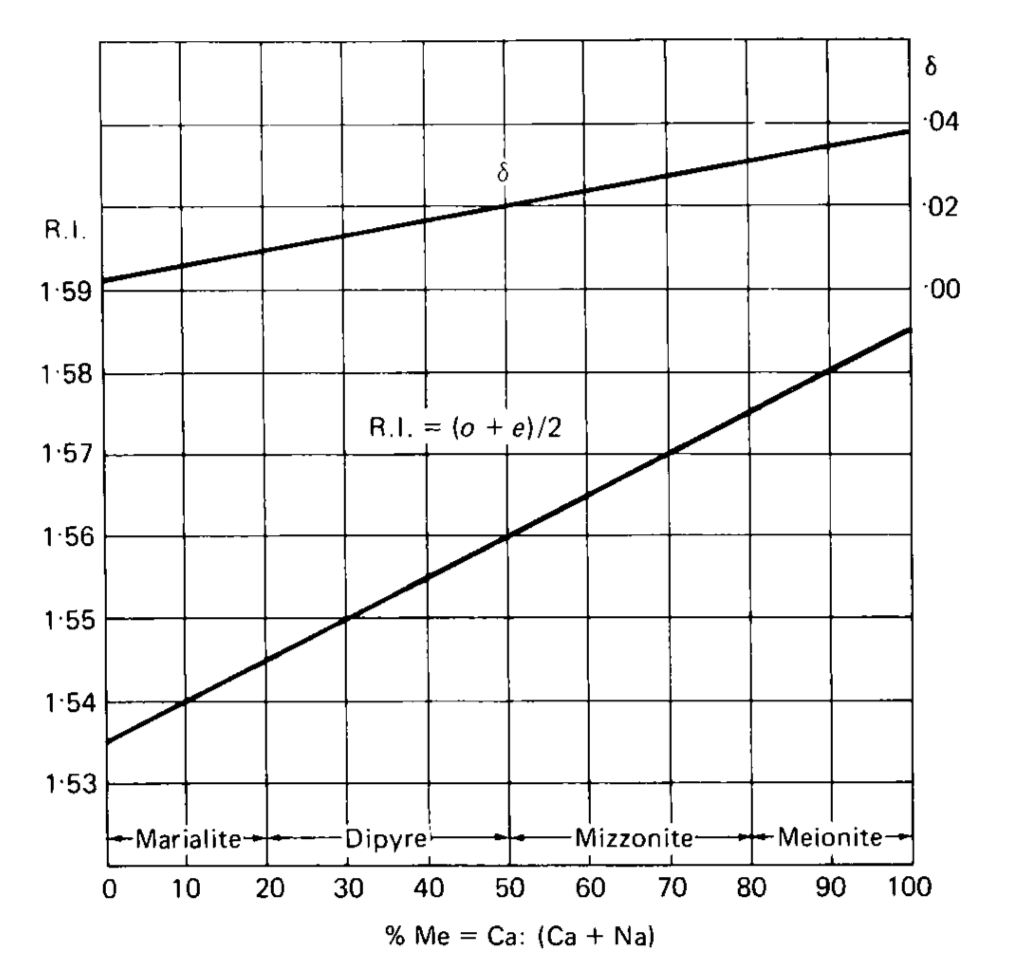 Note: Dipyre is a Ca-rich marialite.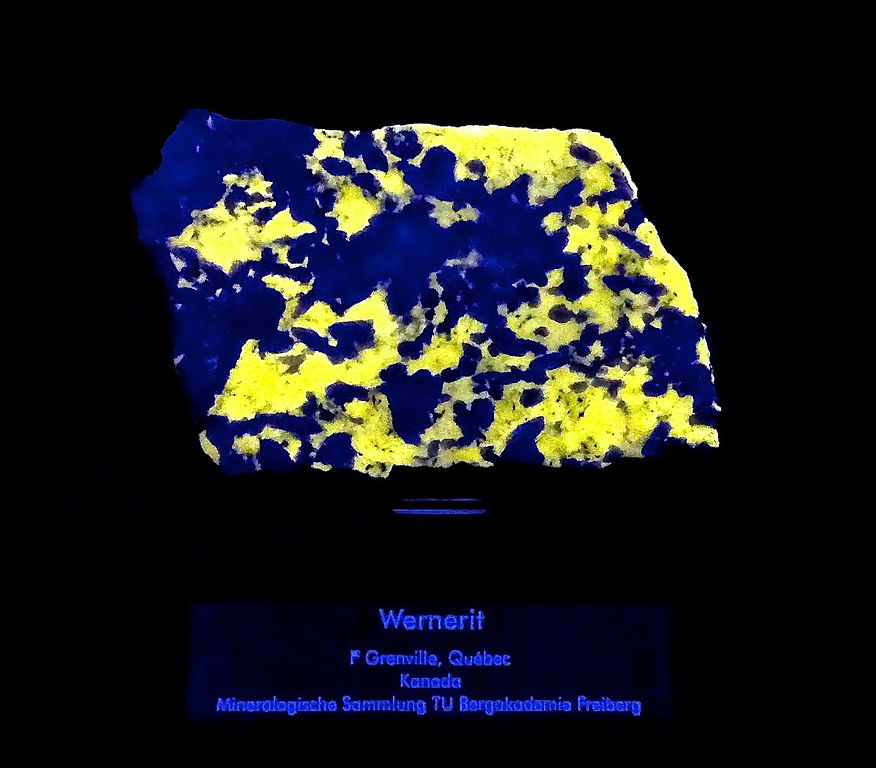 Synthetics
Scientists have synthesized scapolites, from marialites to meionites, for research purposes. However, there are no known jewelry uses for these synthetic materials.
Enhancements
Heating can improve color. This common enhancement is undetectable.
Yellow and colorless scapolites may receive radiation treatments. This uncommon enhancement creates a brownish purple color, which fades rapidly.
Sources
Tanzania produces the finest golden yellow scapolite known in commercial quantities. Dodoma, Tanzania yields transparent, golden yellow to orangey yellow gem material. This source sometimes produces very pale to near colorless stones, as well as violetish and pink (rare) cuttable crystals.
Espirito Santo, Brazil produces pale yellow crystals, sometimes large and facetable.
Madagascar produces yellow, facetable crystals.
Other notable gem-quality sources include:
Canada: Quebec (lemon yellow, opaque scapolite, some with silky luster); Ontario (light yellow, pink, and green material yielding tiny cut gems).
Kenya: brownish cat's eyes.
Myanmar: white, yellow, pink to violet (all cuttable); also bluish, pinkish, white cat's eyes.
Afghanistan; China; India; Pakistan; Peru; Sri Lanka; Tajikistan.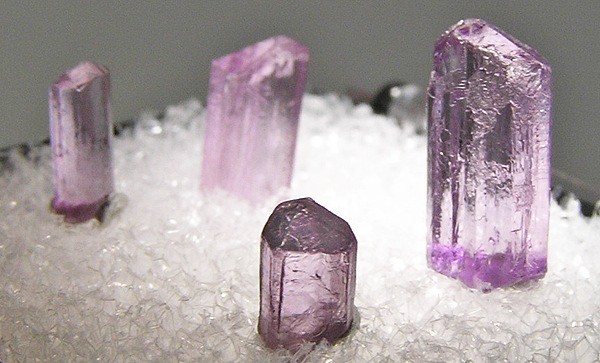 Stone Sizes
The pink and purple Tanzanian material is extremely rare in sizes over 5 carats. You'll find most gems of this color in the 1-2 carat range.
Brazilian yellow scapolite is cuttable up to about 30 carats. However, at that size, it's usually flawed (long thin tubes).
Faceted Myanmar scapolites are rarely encountered on the market. However, white and yellow specimens from Myanmar have been found in large sizes. Pink Myanmar step-cut gems to 70 carats have been reported. Cat's eyes usually run under 10 carats. However, larger ones are known.
Royal Ontario Museum (Toronto, Ontario, Canada): 28.4, 57.6 (yellow, Brazil); 7.91 (pink, Myanmar); 65.63 (colorless, Myanmar); 18.8 (gray, cat's eye); and 18.3 (pink cat's eye).
Smithsonian Institution (Washington, DC): 288 (colorless, Myanmar); 29.9, 19.7 (cat's eye, pink, Sri Lanka); 12.3 (pink, Myanmar); 103.4, 52.2 (yellow-orange, Tanzania).
Devonian Group (Calgary, Alberta, Canada): 3.34 (blue cat's eye, Myanmar); 21.25 (white cat's eye, India).
Private Collection: 14.83 (violet, Tanzania, largest known of this color); 52.92 (green-brown cat's eye).

Care
With a hardness of 5.5 to 6 and perfect cleavage, scapolites require care when setting and wearing as jewelry. Although daily wear as a ring stone may be inadvisable, protective settings and occasional use will let you show off these rarely seen gems. Scapolites would make excellent choices for pendants and earrings. Avoid cleaning them with mechanical systems. Instead, use only a soft brush, mild detergent, and warm water. Consult our gemstone jewelry cleaning guide for more recommendations.