Gemshow Tips: Equipment
---
by
Gemshow Tips: Equipment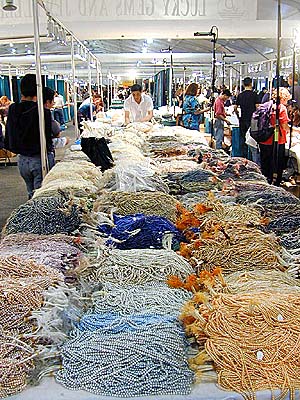 The Tucson February Gemshow is absolutely huge and the chances are you will not be able to see all of it even if you are here for the entire show.
So it is a good idea to figure out what exactly you are looking for. Cut stones? Rough? Beads? Fossils? Everything in general.
Once you have narrowed down what you want to buy then you can generally narrow down your search pattern. In other words concentrate on show(s) that specialize in what you are looking for. Most of the larger shows (hotels) have a theme, i.e. minerals, jewelry, cut stones. Remember that they will still have mixed dealers selling about everything, but the larger hotels/shows do tend to be more concentrated on one area of merchandise.
Here is a list of the general ones.
AGTA (convention center) – High end cut stones and jewelry, generally not much rough.
GJX – Mix of high end cut stones, jewelry and a little rough.
Holiday Inn Rodeway – Beads and all types of native junk, almost no rough, some tools.
Holiday Inn Holidome – Beads, pearls, some tools, native carving, jewelry, silver and gold, and all types of junk, almost no rough.
Ball Park – This is where all the equipment manufacturers are, plus, some various swap meet type dealers and some large dealers of whatever… Some cabbing rough, but not much else.
River Park (formerly Sheridan 4 Points) – This is where most of the major rough dealers are, plus minerals, and interesting stuff, some jewelry.
La Quienta (formerly Holiday Inn Express) – This is mostly rough and minerals, a lot of Afghanistan and Pakistan dealers, a fair amount of faceting rough, but finding clean material is tough.
Days Inn – Lower end show, minerals, jewelry, some rough not usually much.
Discovery Inn – Mixed minerals, some faceting rough though usually not a lot, and lower grade, cabbing rough.
Raddison downtown (formerly Holiday Inn) – A little rough, but mostly cut stones and jewelry.
InterGems – Used to be Congress Expo, now moved and two shows one tent on East side of Freeway south of the Community Center and in the Metal building just behind the Holidome tent. Mostly swap meet type of things, can occasionally find something interesting.
There are some handy things that I think most people will find that they will need and use at the show.
Waist or Fanny Pack – To carry your loot. I always put a couple of energy bars in mine, anti-acid (in case you buy show food), a couple of rubber bands, a few handi-wipes, extra batteries.
Water Bottle – one that slides on the belt of the Fanny Pack is nice to have. I usually freeze the water in it the night before. A bottle holder that will fit a standard soda bottle is nice. Most Bike shops have a lot of different styles.
Pad of Paper and a Pen – sounds obvious, but I can never find one when I want one, and you will find yourself wanting to take notes. See my article on stone pricing.
Calculator – if you are mathematically challenged, it is handy to be able to check the dealers' math, most people are honest, but they can make mistakes. I like to use a small pocket solar calculator that has a battery backup.
A Good Pair of Boots – hiking boots with a good non-slip sole are ideal, there are a lot of things to trip over at the show, like rugs, stairs that do not match.
Show Guide – very handy because it has maps, dates, and dealer locations if you are looking for some one or place in particular. You can get one it the lobby of almost any hotel in town during the Gem Show They are free. Also, a show guide is pretty handy to have around during the rest of the year to look people up in. I always keep one on my reference shelf for easy use during the year.
Equipment to Bring
A good quality 10x Loupe (10x Loupes) A quality 10x loupe is a must when looking at, and buying faceting rough at any Gem Show. I prefer a smaller one to carry when I am at a Gem Show because it is easier to fit into a pocket. I know quite a few people that carry one on a string around their neck during the show. It will help keeping you from losing one, although I carry mine in my pocket or fanny pack. Always loupe a piece of rough. It may look good to your naked eye, but always check.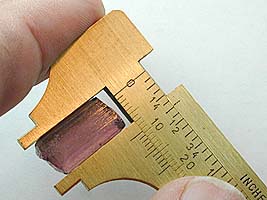 Brass Calipers (Calipers) A good pair of inexpensive brass calipers is very handy when trying to decide on a piece of facetimg rough. You can get a good idea of what size the piece of rough is, and also what it will finish out to, in a cut gemstone. Also I use them a lot to estimate the amount of loss on a piece of rough if it has some flaws.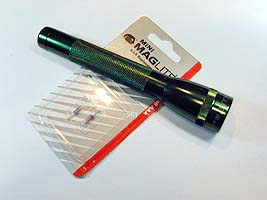 Flash Light A good flash light is also a must for looking at faceting rough. I like the MAGLITE flashlights. I carry a AA (2 cell) that has a belt pouch, it is very handy. I use rechargeable batteries, but if you are traveling sometimes the charger can be a hassle. I also have a smaller one that takes AAA (2 cell) batteries that fits in my shirt pocket. I like both… Walmart carries them pretty cheap. Bulbs – Be sure and bring some extra bulbs (there is one extra in the end of the MAGLITE flashlights).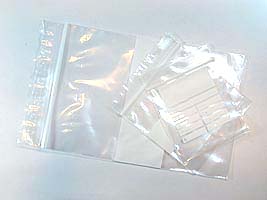 Zip Lock Bags I always try to carry a few different sizes of zip lock bag's with me. I prefer the type that have a white place on them for writing down information. You would be surprised at how many dealers do not have anything to put rough in, after you have bought it. Having bags and being able to write information on them (like how much, where you bought it) is very handy and can often save you a headache later.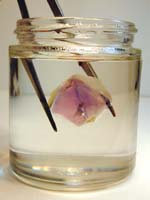 Refractol A jar of Refractol is a good idea, especially if you are a beginner. It can be kind of a hassle to carry around (along with tweezers and paper towels for cleaning up), but well worth having on hand if you are not sure how clean the piece of rough you are looking at is. Always ask before using refractol and always clean up well when you are done. If you are more experienced (or as you gain experience) you will not need it.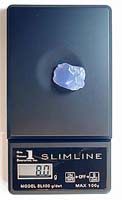 Gram Scale (Scales) I like to use a scale that is accurate to .1g and will weight up to 100 grams at a time. It may sound like a lot to weigh, but if it is Quartz or something like that it is not a lot. Also the .1 (1/2 carat) accuracy is good enough for most things and will at least give you an idea of how accurate the dealers scale is, if you are in doubt. Also, believe it or not you will encounter dealers that do not even have a scale with them.

About the author
Jeff R. Graham
The late Jeff Graham was a prolific faceter, creator of many original faceting designs, and the author of several highly-regarded instructional faceting books such as Gram Faceting Designs.
All articles by this author