by Megan Coward, Graduate Jeweler Gemologist, GIA, Graduate Gemologist
GEORGIAN PERIOD – 1714-1837
The Georgian Period of jewelry design covers the reign of four English kings named George: George I, II, III, and IV. Even though the name of the period is English derived, the English alone were not responsible for influencing jewelry motifs. French, German, and Italian historical events influenced jewelry designs too.
Georgian Period Notables
Jewelry from this period was all handcrafted with incredibly labor-intensive processes. Gold and metal ingots had to be hand hammered into thin sheets before the artisans could even begin to fabricate jewelry. The hallmark of Georgian jewelry is the incredibly ornate metal work that can only be achieved with hand fabrication. Also, hand crafted jewelry doesn't have porosity (surface pitting in the metal), a common occurrence seen today with modern casting using molds.
Locating jewelry from this period is very difficult because Georgian Period jewelers often melted down what they thought to be out-of-date pieces to be remade into newer pieces reflecting current trends.
Georgian jewelry will not be stamped because gold assaying wasn't enforced until the 1900s. A marker's mark (the mark of the firm responsible for production) will also be absent, another trait not enforced until the 1900s.
Repousse was a common metal working technique where malleable metal was hammered into intricate designs and patterns. In 1750, the rolling mill was invented and it eliminated the need to first hand hammer the metal into thin, uniform sheets.
Cannetille was another metal working technique used that involved intricate wire work designs.
Gemstones were often set in closed back settings that included foil backings under the gems to enhance the scintillation by candlelight. The foil is very delicate and contact with water is ruinous.
Common Metals – silver for gemstone settings, 18k or higher yellow gold, steel, iron, and pinchbeck (83% copper and 17% zinc)
Common Motifs – flowers, crescents, ribbons, bows, leaves, feather plumes, sprays of foliage, enameling and glass overlays
Until 1750, the Baroque style was trending with its total symmetry and heavy ornateness.
1750 saw open, light, and asymmetrical lines to jewelry with the emerging Rococo style.
1706 to 1814 saw Pompeii being excavated. In 1760, Roman and Greek motifs with Greek keys and laurel and grape leaves were the rage. This Neo-classical Georgian jewelry is very much in demand to today.
1798 had Napoleon at war with Egypt and, therefore, jewelry reflected pyramids and papyrus leaves.
The Hot Items –
Memorial or hair jewelry commemorating a loved one
Pendeloque or pear shaped dangling earrings
Girandoles – ribbons or bows with three dangling gemstones
Navette, oval, and rectangular shaped rings
Bracelets of any kind worn in pairs
Dog collars or chokers
Riviere necklaces which features a strand of gemstones in individual mountings and linked together
Chatelaines – Before purses or pockets, women and men carried their important tools or accessories dangling from a pin or hook attached to their belt. These accessories could be scissors, watches, writing instruments, notebook, or eyeglasses. They continued to be popular until the 1900s.
Hair combs and brooches with en tremblant settings. The en tremblant design had parts of the jewelry attached to a trembler to create movement. This design is highly prized today if intact and still trembling.
Fer de Berlin (Berlin iron) jewelry – In 1804, in order to help finance the war against Napoleon, Germans donated their precious jewelry to the war effort to be rewarded with substitutes fabricated from iron. They were often engraved with "Gold gab ich fur eisen" (I gave gold for iron). The pieces were sand-cast (sand is used as the mold) and then lacquered black. This jewelry is highly collectible today.
Parures – suites of matching jewelry that often converted into another item: a brooch doubled as a pendant, a necklace separated into 2 bracelets.
Gems Used – diamonds, rubies, sapphires, garnets, topaz, coral, shell, agate, chrysoberyls, pearls, paste or glass was introduced as a gemstone alternative in 1780. Diamonds were almost exclusively used until gemstones made their resurgence in 1750.
Cutting Style of Gems –
Table cut – square shape with a flat top and bottom
Rose cut – round shape with a domed top and flat bottom
Old mine cut – rounded square shape with many facets and closely resembles today's modern round brilliant cut
Cabochon – rounded top and flat bottom
Briolette – faceted tear drop shape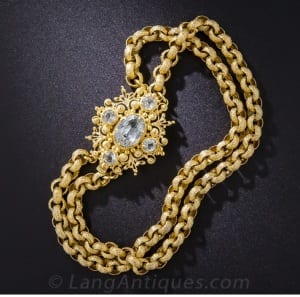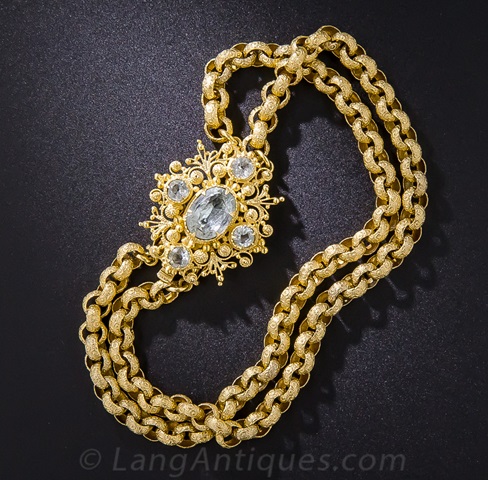 This aquamarine bracelet has the five aquamarine gemstones foil backed amongst intricate cannetille work. The double strand bracelet is 15k yellow gold with the links of detailed metal work. The aquamarines are not a deep color, but the gold and the detailed, hand crafted metal are superb and set the price at $3,850 (courtesy of Lang Antiques and photographed by Cole Bybee).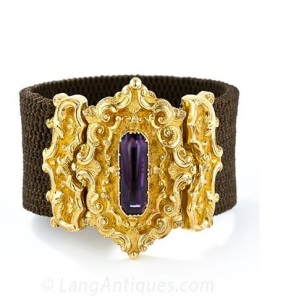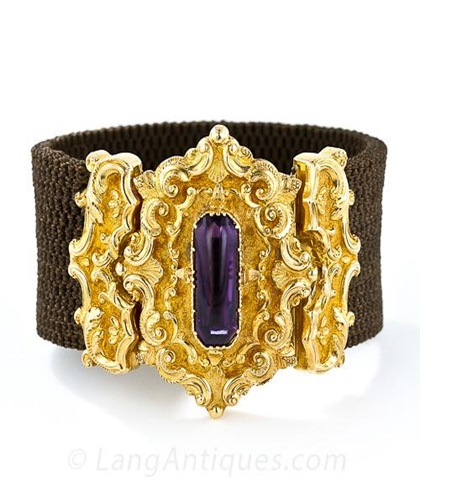 This memorial bracelet is a beautiful example of repousse metal work and a stunning example of hair jewelry from this period. The 18k yellow center Baroque-style plaque serves as the clasp and houses a cabochon cut amethyst. The bracelet part is completely comprised of woven hair and is remarkably intact. The value of the bracelet is determined by two things: the intricate 18k gold work and the irreplaceable hair. It sells for $4,850 (photo courtesy of Lang Antiques and photographed by Cole Bybee).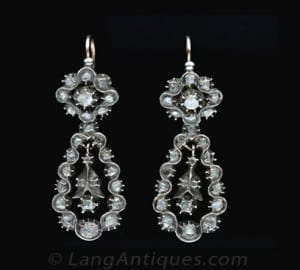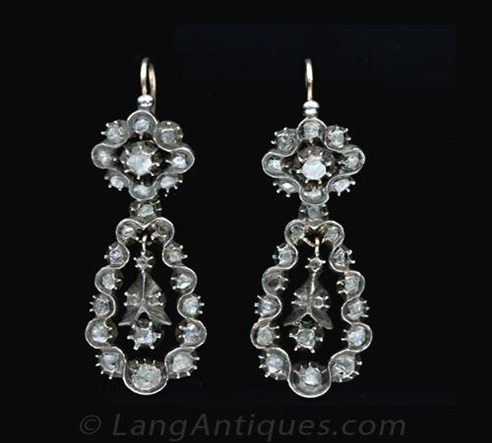 These pendeloque earrings feature 56 table and rose cut diamonds set in silver with gold backings. The pendeloque can be removed via a hinge in the front. The diamonds set the price with the hand-fabricated mountings contributing. The earrings sell for $4,950 (photo courtesy of Lang Antiques and photographed by Cole Bybee).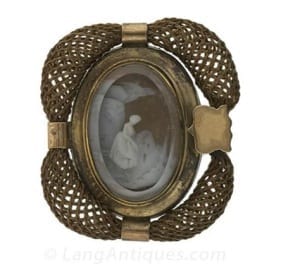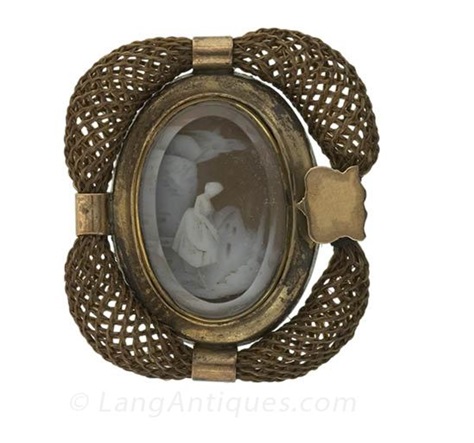 This mourning brooch features a shell cameo depicting a woman crying at a grave. The cameo is covered with glass and framed by the woven hair of the departed. The pin is 10k yellow gold. The price is determined by how fine the detailing is on the cameo and the intact hair is rare. The pin sells for $795 (photo courtesy of Lang Antiques and photographed by Cole Bybee).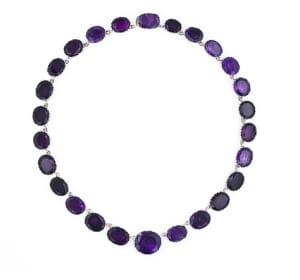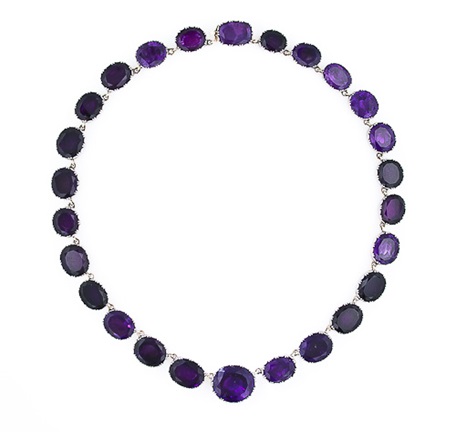 This is a riviere necklace common for the period. It features well-matched amethysts set in silver. Diamonds and other gemstones were often used. This style has remained popular and can be seen worn today (photo courtesy of Lang Antiques).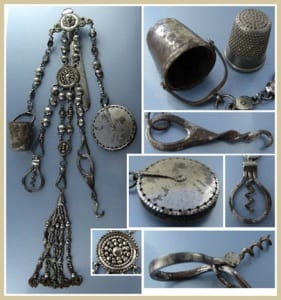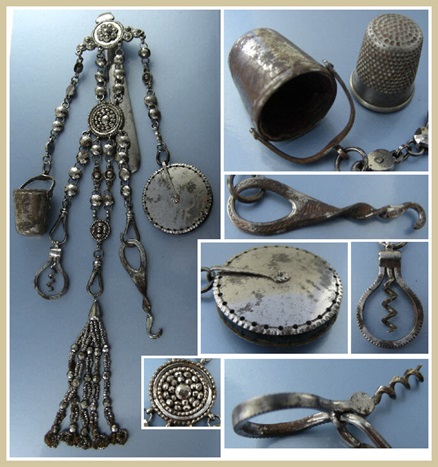 Chatelaines were decorative as well as practical. The above chatelaine is made of cut steel and includes: a disc shaped pin cushion, a button hook, a thimble holder with steel thimble, a folding corkscrew for perfume bottles and a decorative cut steel attachment. This chatelaine is in very good condition with some rust on the steel due to time. Intact chatelaines, such as this one, are very rare. Over the years, many were dismantled with the tools being used as pendants (photo courtesy of Fine and Mint).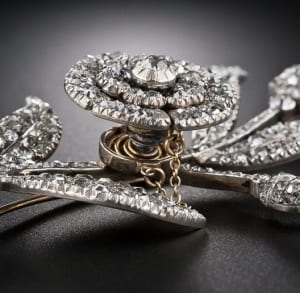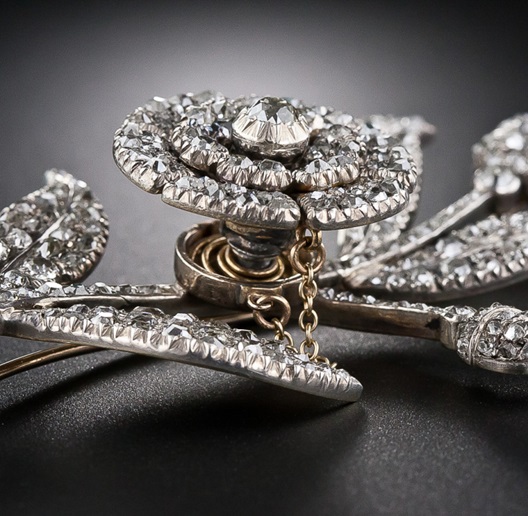 This en tremblant brooch features a trembler that gives movement to the pin. The brooch is encrusted with 264 rose cut and old mine cut diamonds that total 5.50 carats. The diamonds are set in silver with an 18k yellow gold back. The brooch is housed in its original box, a rare accompaniment that adds value. The diamond weight is substantial and the craftsmanship is superb. The brooch sells for $14,750 (photo courtesy of Lang Antiques and photographed by Cole Bybee).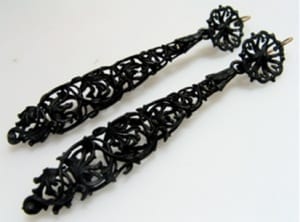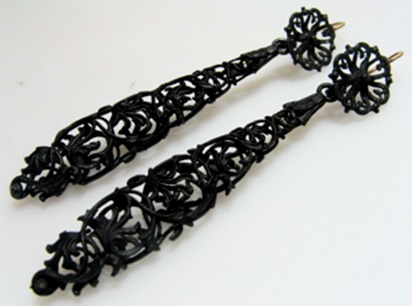 These fer de Berlin earrings are fabricated from iron and coated with black lacquer. Dated 1830 with intricate scroll designs. The earrings sell for $2,637 (photo courtesy of the Antique Jewellery Company).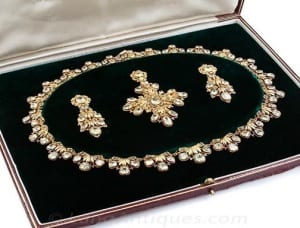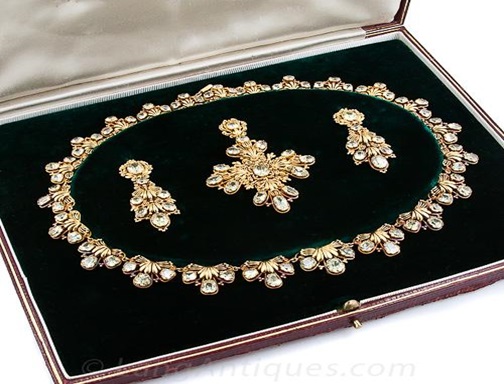 This parure is an excellent example of what was en vogue during the Georgian Period. The large piece in the center is a brooch that also doubles as a pendant for the necklace. The earrings can be worn as studs or as dangles. The suite features a total of 97 chrysoberyls of mixed cuts that total 38.50 carats set in 18k yellow gold. It's very rare that the parure wasn't split up over the years. The sheer number and total weight of the chrysoberyls is valuable as is the workmanship and rarity of this intact suite. The parure sells (as one item, of course) for $14,750 (photo courtesy of Lang Antiques and photographed by Cole Bybee).
While jewelry from the Georgian Period is rare, the pieces that do exist are expertly crafted, hand made items of art. Jewelry isn't created like this anymore and it is a true collector's find. It's worth every penny, if you can spare it.