Rhodolite Value, Price, and Jewelry Information
---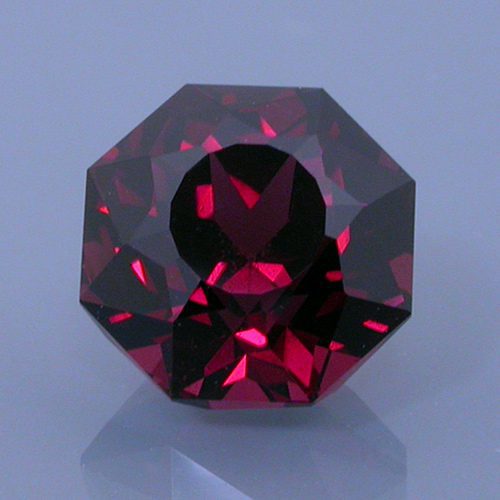 Rhodolite Value
The International Gem Society (IGS) has a list of businesses offering gemstone appraisal services.
See the entire Gem Price Guide.
Start an IGS Membership today for full access to our price guide (updated monthly).
Rhodolite Information
| | |
| --- | --- |
| Data | Value |
| Name | Rhodolite |
| Is a Variety of | Almandine-Pyrope |
| Colors | Purplish red, red-purple, reddish purple. |
| Specific Gravity | 3.79-3.80 (Tanzania); 3.83-3.89 (Zimbabwe); 3.84-3.89 (North Carolina). |
| Dispersion | 0.026 |
Rhodolite is intermediate in composition between almandine and pyrope, with a ratio of Al to Fe of 2 to 1 (that is, 2 pyrope + 1 almandine). The distinctiveness of rhodolite is in its color, which is nearly always a purplish red.
The absorption spectrum always shows almandine lines. Inclusions include apatite crystals (North Carolina) and any of the other inclusions found in almandine. The color of a garnet is misleading, and a chemical analysis is required to show whether a garnet is an almandine or pyrope, or a mixed crystal.
Optics:
N= 1.750-1.760 (Zimbabwe);
1.760-1.761 (North Carolina);
1.745-1.760 (Tanzania).
Occurrence:
North Carolina: rhododendron red. lilac, pinkish.
Sri Lanka; Madagascar; India; Tanzania; Zimbabwe.
Stone Sizes:
Smithsonian Institution (Washington, D.C): 74.3, 22.1 (Tanzania); 16.5 (North Carolina).
Comments:
The original locality for rhodolite was Cowee Creek, Macon County, North Carolina. Stones from this locality are usually very small (under 1-2 carats), but new finds in Africa have yielded gems over 75 carats. Material from the North Pare Mountains, Tanzania, may show a color change, blue in daylight to purplish red in incandescent light, similar to alexandrite (N= 1.765, S.G. = 3.88).
Some say the name rhodolite comes from the Greek word, rhodon, meaning rose. Other scholars compare the name to rhododendron. In either case, the name is comparing the color to a flower.
by