Grossular Value, Price, and Jewelry Information
---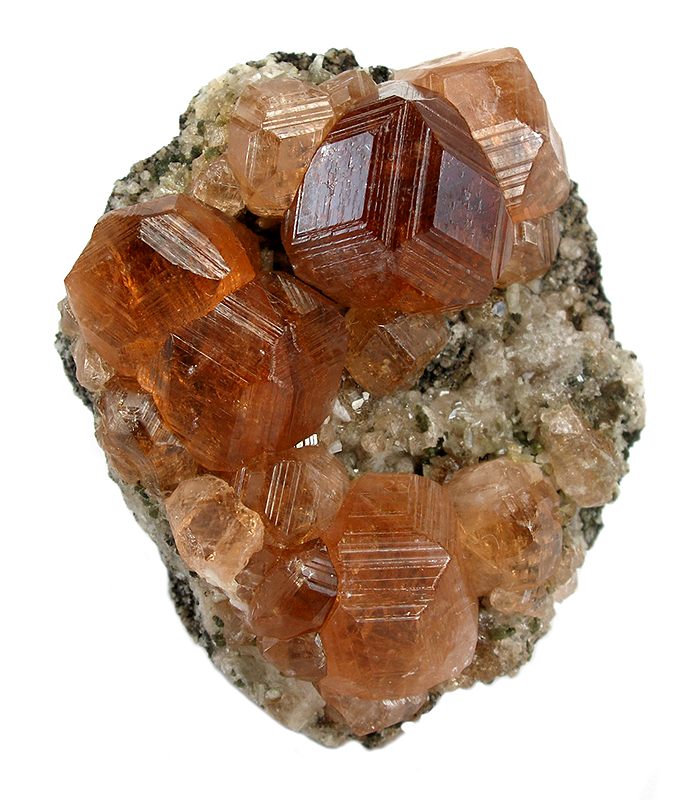 Grossular Value
The International Gem Society (IGS) has a list of businesses offering gemstone appraisal services.
See the entire Gem Price Guide.
Start an IGS Membership today for full access to our price guide (updated monthly).
Grossular Information
| | |
| --- | --- |
| Data | Value |
| Name | Grossular |
| Is a Variety of | Garnet |
| Varieties | Hessonite, Hibschite, Hydrogrossular, Transvaal Jade, Tsavorite |
| Crystallography | Isometric |
| Refractive Index | 1.72 - 1.80 |
| Hardness | 6.5 - 7.5 |
| Specific Gravity | 3.4-3.71; usually near 3.65. |
| Cleavage | None |
| Dispersion | 0.028 |
| Heat Sensitivity | Some |
| Luminescence | Usually none in UV. All massive material glows orange in X-rays, as do many faceted gems. |
| Spectral | None in pale-colored, faceted gems; a trace of almandine may produce a faint iron spectrum. A trace of Cr may produce a chrome spectrum in green varieties. Massive grossular may show a weak line at 4610 or a band at 6300. Green, massive grossular from Pakistan shows a line at 6970 (weak) with weak lines in the orange, plus a strong band at 6300 and diffuse lines at 6050 and 5050. Orange stones may have bands at 4070 and 4030. |
| Formula | Ca3Al2Si3O12 |
Also known as hessonite, essonite, cinnamon stone; rosolite is a pinkish variety from Mexico.
The botanical name for gooseberry is grossularia, from which this garnet receives its name.
Unlike the other garnets, grossulars are rarely red or dark. They come in every color except blue and are sometimes colorless. The tone is often light to medium. They make brilliant gems with vibrant colors.
In metamorphosed, impure calcareous rocks, especially contact zones; also in schists and serpentines; worldwide occurrence, widespread.
Eden Mills. Vermont: fine orange crystals, some gemmy, with green diopside.
California: many localities.
New England: many localities.
Asbestos, Quebec, Canada: fine orange to pinkish crystals at the Jeffrey Mine, up to 2 inches across, gemmy.
Also colorless (N= 1.733).
Lake Jaco, Chihuahua, Mexico: large pinkish, white, and greenish crystals: color zoned concentrically, usually opaque; crystals up to about 5 inches in diameter.
Sri Lanka: grossulars are found in the gem gravels (hessonite).
Wilui River, USSR: opaque green crystals with idocrase.
China: massive white grossular.
Australia (Harts Range. Northern Territory): hessonite.
New Zealand: hydrogrossular.
Kenya and Tanzania: fine grossular in various colors, especially the dark green material being marketed as tsavorite, containing V and Cr.
South Africa: massive green material that resembles jade.
Pakistan: some faceted green gems: also massive green grossular, various shades.
Brazil; Switzerland.
Hydrogrossular and massive varieties are cut as cabochons of large size, including green shades and also pink, translucent grossular. Massive white material from China has been carved. Orange and brown grossulars up to several hundred carats from the Sri Lankan gem gravels have been found; the fine cinnamon colored stones from Quebec are clean only in small sizes, but good gems up to about 25 carats have been cut. Tsavorite is rare in clean gems over I carat: the largest known are in the 10-20 carat range.
Smithsonian Institution (Washington, D.C): 64.2 (orange-brown, Sri Lanka)
Private Collection: 13.89 (yellow, oval).
American Museum of Natural History (New York): 61.5 (cameo head of Christ, hessonite).
NMC: 23.94,13.40,8.50 (brownish-orange hessonite, Asbestos, Quebec); 4.68, 2.94 (colorless, Asbestos, Quebec).
Grossular has a granular appearance under the microscope, sometimes referred to as treacle, a swirled look due to included diopside crystals and irregular streaks at grain boundaries. Zircon crystals are included in some grossulars. as well as actinolite and apatite (Tanzania material). So-called Transvaal jade is the green massive matenal from South Africa. The color of grossular depends on the content of Fe and Mn. If there is less than 2% Fe, grossular is pale or colorless. Greater amounts of Fe produce brown and green colors, and a rich green shade is due to Cr. Californite is a mixture of idocrase and grossular, usually pale to medium green in color. It comes from California, Pakistan, and South Africa.
Hydrogrossular is a component of the massive grossulars. Material from New Zealand is known as rodingite (N= 1.702, density 3.35). Transvaal jade occurs in green, graygreen. bluish, and pink colors, is compact and homogeneous, may have a splintery fracture and waxy luster. The gray material contains zoisite. Pink material, containing Mn, has N= 1.675-1.705, density 3.27. The green, jadelike material has N= 1.728, density 3.488. Pakistan massive grossular has N= 1.738-1.742, density 3.63, with a Cr absorption spectrum. Similar material from Tanzania has N= 1.742-1.744, density 3.68.
Colorless grossular from Georgetown, California, has
N = 1.737, density 3.506. Yellow garnet from Tanzania fluoresces orange in X-rays and also UV, N= 1.734, density 3.604. Tsavorite from Lualenyi, Kenya, has N= 1.743, density = 3.61 (mean). It is inert in UV light, contains a trace of Cr and a significant amount of vanadium. The color of these tsavorites is therefore due to vanadium, not chromium as originally suspected.
The pinkish grossular in marble from Lake Jaco and Morelos, Mexico, is variously known as xalostocite, landerite, and rosolite.
OPTICS: N= 1.72-1.80; usually 1.73-1.76 (with V= 1.743-1.759).
by