Before and After Pictures of Re-cut, Re-polished, or Repaired Gems
---
by
It often makes sense to repair, re-cut, or re-polish gems.  A great lapidary can really do wonders to a gem that has seen better days, and for an otherwise inexpensive gem, the cut can be virtually all of the value in the stone (for example, a basic piece of quartz).
The focus of this posting is to show you some before and after examples of re-cuts. We have several other articles here on IGS that discuss this topic, including a visual guide to how the gem re-cutting process works and a very comprehensive overview on recutting diamonds and colored stones in our premium content section.  Feel free to navigate to either of those as your research continues.
So what exactly can a lapidary do?  Let me show you some examples!
This first example is the spinel that is featured in our visual guide to gem recutting.  Quite a difference!
Here is a white sapphire I bought from a dealer in Thailand.  It was cheap, and you can see why.  It is a poorly executed native cut on a 1.65 ct white sapphire and the polish is terrible!  Afterwards though, it ends up as 1.07 carat emerald cut sapphire.  Quite a difference!
This is a purple spinel I bought from a dealer who sold it for like $20/carat.  It had nicks, scratches, and a chip but the color was really nice.  Again, a big difference after the re-cut.  This purple Spinel went went from 4.24 to 2.85 carats. A proper cut really improved the optics!
This Cambodian blue zircon went from 6.84 to 4.50 carats and now has a Portuguese style pavilion with 72 facets on the bottom.  The pictures look kind of "blurry" because of the refractive nature of Zircon.  It's nearly impossible to photograph.
Lapidary Dan Stair calls this one a pink tourmaline because it doesn't quite turn red.  It went from 9.67 carats to 4.29 carats.  He had to work at it a bit, but was able to improve the clarity of this one a lot.
A nice looking Rubellite tourmaline.  This material is almost impossible to find clean, and this is quite clean as far as this material is concerned.
Another pink tourmaline re-cut.  This one came out really nicely. Likely origin is Nigeria.
A Cambodian-origin blue zircon.  Very nice, although the saturation is a bit funky.
This aquamarine really came out nicely.  It's a light shade "greenish-blue" and was unheated.  Was chipped, and we fixed that when we executed the scissor-emerald shape.  A very large improvement.  Be careful when buying aqua, by the way… it is very easy to find yourself with a piece of blue topaz because the seller may not have checked the refractive index to verify it is beryl (aquamarine) before selling it as such.
This Sphene (below) is in my personal collection still.  It is the cleanest and nicest Sphene I've found to-date and we re-cut it from that really funky shape you see on the left.  I really love this stone.
This aquamarine was chipped in one corner and it brightened up tremendously after the re-cut.
I never buy Beryllium-treated sapphire but this one was kind of cool and I basically got the stone for free.  Cleaned it up nicely!
A really nice and really clean Spessartine Garnet.  Closing up the window made a huge difference on this stone.
This is a Brazilian fire opal.  Another big difference and a much more compelling shape, too.  This stone was like 16 carats after the re-cut!
This was a huge Cambodian blue zircon (all of this material is treated, by the way).  I bought it because it was 17 carats, which is very big.  Re-cut down to 11 carats, but look at the new stone.  Wow!
I rarely ever buy quartz, but this amethyst was a great color, and I couldn't resist.  It was re-cut as a full portuguese brilliant.  The classic Portuguese brilliant design utilizes 161 facets, 10 rows of 16 facets each plus the table.  It tends to be better for larger stones like this one, which is 26 carats after the re-cut.
This is a Zoisite (Tanzanite) that was abraded, windowed, and needed a re-polish.  Big difference and minimal weight loss (less than 5%).
I bought this Sapphire from a Thai dealer who clearly had thrown it in a big bag of stuff, as it had completely rounded facets and looked like a piece of gravel!
Another stone I tend not to buy very often – this is a Morganite, but a particularly pink one (which is why I bought it).  This got sold to a fellow in China.  It's 14 carats if I recall, and the cut is a "Maroke" cut.
I wrote extensively about this purchase in my article on Investing in Gems.  Basically, I bought it from a jeweler who thought it was a spinel, and it turned out to be a sapphire.  A quick fix and it is much, much brighter (and quite a good investment as well).
This was a particularly good buy as well.  It's a blue/violet spinel that we re-cut as a Portuguese round brilliant (Portuguese bottom, round brilliant top).
This stone is kind of unusual.  A pure bubblegum pink spinel.  The pure pink hues in spinel are kind of hard to find – many have a purple overtone.
This is a purplish-pink spinel  Nothing really wrong with it before the re-cut, except for a small window.  But the material was inexpensive enough in this size (under 3ct) that I just decided to have it fully re-cut.
This one is a real stunner in person.  I love the color, and the full-recut is essentially a modified replica of the Cullinan II diamond.
I really paid up for this stone ($60/ct).  It's a Zircon. It's just such a funky mix of colors, and it's saturated with a lot of green.  I spent even more money having it re-cut, but it really did turn out well.  Likely not a good investment (you can't win them all).
This is a purple spinel that I paid about $135/ct for.  We re-cut the pavilion for a quick fix, and lost minimal weight.  It ended up being about 3.5ct.  That quick fix makes a huge difference, and only takes a skilled lapidary an hour or so to perform, most of which is the dopping time.
This is an aquamarine that I purchased with the express intention of having it re-cut to set into a custom pendant.  It turned out really well.  See below for a picture of the finished aquamarine pendant.
Just for fun… here is what this re-cut aquamarine became….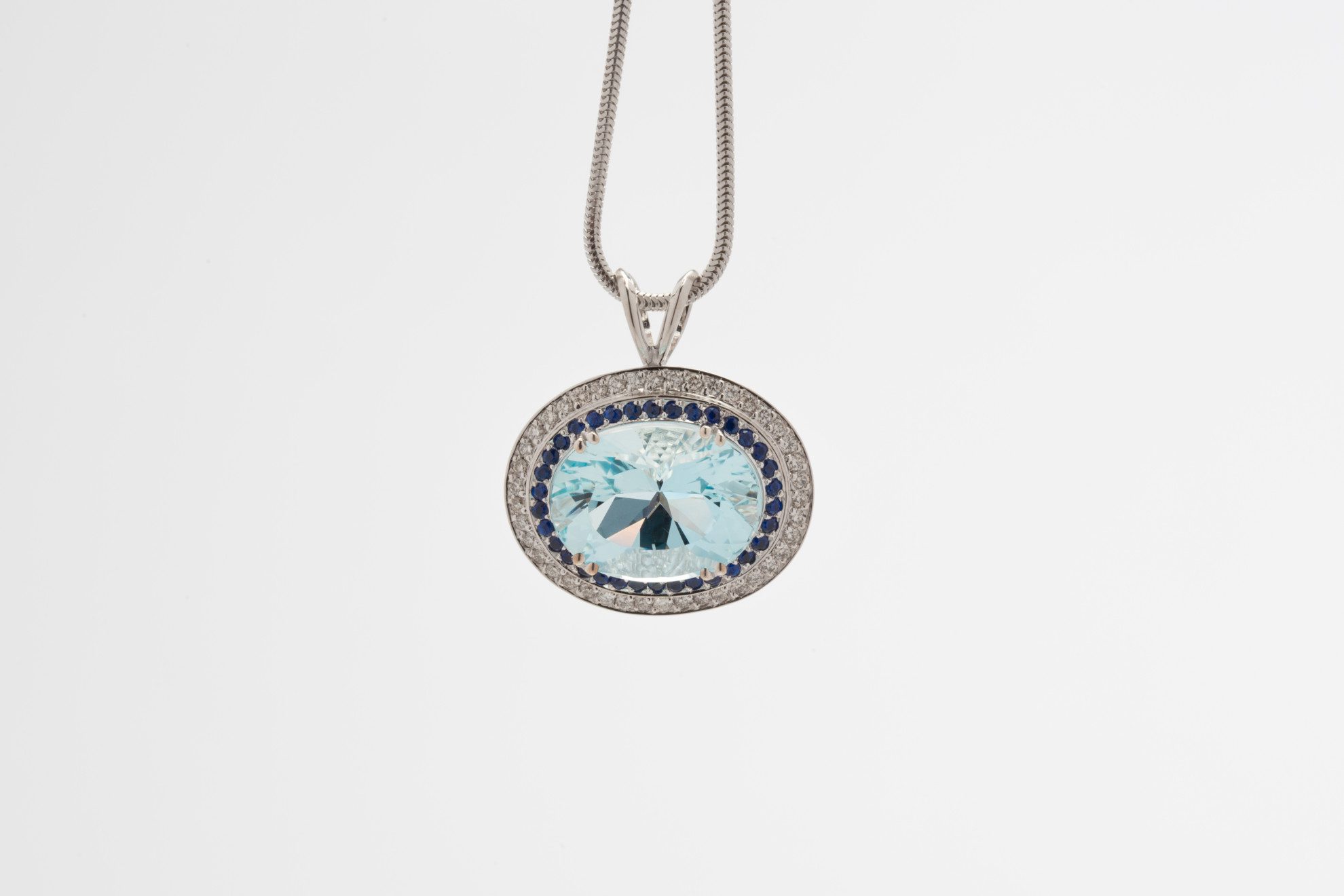 I took a bit of a flyer on this stone.  It is a dark red spinel with a massive window.  It brightened up a bit after the re-cut, but it is still a dark stone.  Nonetheless, it is a pure red hue and therefore is a good stone.
This is another Spinel that I was convinced might lighten up a great deal with a full re-cut.  Unfortunately, it seems I've learned the hard way that if a crystal is dark, it's often extremely difficult to lighten it up unless the darkness is almost exclusively due to the cut.
This is one of those stones that just turned out so much better than I ever could have expected.  I will never part with it.  I bought it from a dealer for $500.  It's a 36 carat (yes, 36 carat) loupe clean Zircon.  It almost looks like a "cape" diamond.  It was abraded, chipped, and nicked all over the place.  We did a full re-cut and it is now 27 carats which is still huge by Zircon standards.  This stone holds the distinction of being the most dispersive stone I've ever owned, cut, or even seen.  It's ridiculous.
I bought this from the same guy who I bought the other Zircon from @ $60/ct.  This one is 9cts after the re-cut.  I now have a really well cut matching pair of Zircon and my basis is like $90/carat.  One day I will get my money out of them, but my basis is too high on this deal and they will be difficult to move for what I have into them.
This sapphire below was acquired because every 6 months or so, I re-convince myself that you can get some good buys on eBay.  And while that is true, it is absolutely the exception, and not the rule.  For every dozen things I buy on eBay and re-cut, maybe one turns out better than expected.  The rest just end up better versions of the same.  I've learned that you have to start with truly fantastic material or source material in a really creative way if you are looking to make a score on a re-cut project.  eBay does have some deals, but I highly recommend against striking out on your own to try to find them.  In my experience, you waste more money and time than you could ever hope to make.  Good material is rarely ever given away.  The below is my latest attempt, a cloudy pink sapphire that I ended up selling for a loss.  I don't like it.  It turned out better, but it is still not for me.
Another eBay buy gone awry.  Described as a red zircon, but it faces up brown.  Sold this one at a loss as well.
This lavender spinel (which GIA describes as purplish-pink) really improved. Recut as a modified oval with a supernova crown, it's a real stunner in person.  The pictures make it look a little washed out, but it is not at all washed out in person.
This is a really exceptional spinel.  It's a purplish-red (according to GIA) and it's from Myanmar (Burma).  The re-cut really cleaned it up – we cut the belly out and eliminated the step-cut which because of poor execution was causing a big window.  The stone isn't loupe clean… there is a fingerprint type inclusion off to the side.  But it is 100% eye clean.
This is an example of a truly world class gemstone.  It's a pure red (no secondary hues of any kind) and certified by GIA to be of Burmese origin.  it is 3.60 carats.  WOW!  A very, very valuable gem and likely going in my wife Lisa's anniversary ring.
I bought this sapphire from a dealer for $500 per carat, and it was windowed.  I think it was like 2.31ct before the re-cut, then I re-cut it into a 1.50ct round.  Huge improvement – a perfect blue and much more evenly saturated than it looks in the pictures, with no color zoning.
GIA describes this spinel as "orangy red" – we did a quick fix pavilion re-cut and it is exactly 3.00ct now.  Also, Burmese origin.
One of my favorite jewelers to buy from offered me this Tanzanite that he took out of a piece of jewelry for $400 total.  We did a really cool full re-cut on it.
This is another world class stone.  It's a full color shift spinel – goes from blue to violet when looked at under natural vs. incandescent light.  Quick fix pavilion re-cut.  Only lost about 45 points.
One of my favorite dealers cleared this stone out for $22/ct!  It's a medium color aquamarine that started out over 16t and is now a hair over 10ct.  In person, it is stunning and my basis is just over $50/ct.  It's easily worth 4 times that.